When the Wall fell, were children still. Germany celebrated deliriously, and we watched TV. We weren't very familiar with politics yet, but some of the sensation reverberated with us, too. Today, we wanted to experience that feeling of euphoria for ourselves, or at least research what was left of it. That's why, twenty-five years to the day after the fall of the Berlin Wall, a group of native and immigrant Dutch boarded a touring car and traveled to former border crossing Helmstedt-Marienborn for a chance to celebrate and commemorate the Mauerfall with the Germans.
We arrive at a rather sleepy provincial town, the name of which – and that of the hamlet of Marienborn – was also that of one of the most notorious border crossings of divided Germany: Grenzüvergangsstelle Helmstedt-Marienborn, also known as Checkpoint Alpha. It was the place where Western Europeans would get stuck in traffic on their way to Berlin. For East Germans it simply marked the end of the world. Until November 9, 1989. One Helmstedt resident remembers heavy traffic going the other way that day: "We were strolling through nature alongside the border when we smelled what could only be stroke engines. We walked to the checkpoint and to our surprise we saw East Germans in Trabants calmly crossing the border. Nobody had seen it coming, but the Wall had been torn down."
Twenty-five years after the fall of the Berlin Wall, at a festive and symbolic location, we launch the Iron Curtain Project. With Eddie the Eagle Museum and Club Interbellum we organized a bona fide 'all-inclusive' trip to Helmstedt-Marienborn. We were joined by people who took an interest in the program, but also by several 'border experts': former refugees and failed asylum seekers from We Are Here, who are faced with the reality of borders in Europe today. To get to know the local German population, they and the other travelers start off with a game of Jenga with the villagers in the Zonengrenz Museum.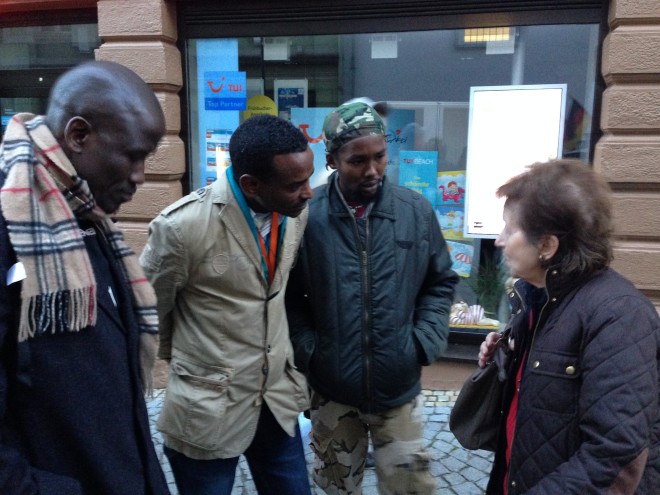 In the streets and on the squares of Helmstedt people drink beers, children ride the carousel, and the local cover band plays Rock Me Amadeus for the third time. Oumar Berete from Sudan and his friends Ahmed and Azedin walk around with a sense of wonder. They seem lost in this German provincial town where the air is pregnant with the smell of bratwurst, but it's them who are pulled aside by locals the most. A German woman who fled from East to West Germany in the seventies wants to share her story, because she believes these men will understand.